A strong corporate culture
Part of Mips' vision is to use our technology to ensure that helmets in all categories protect users significantly better than current test standards promote.
We are pioneers in this important field, which places high demands on attracting and retaining employees with the right skills and passion to always make safer and better products. Even though we are the world leader in what we do, we are modest and curious, with a desire to learn more. We constantly challenge ourselves and encourage our employees to be their best selves every day.
We believe that a strong corporate culture is essential for us to be the leader in our field, and that means having a coaching leadership, good cooperation and engaged employees. It also serves as the foundation for our continued growth journey. We ensure that we maintain this strong corporate culture through continuous and clear communication with and across the entire organization, through our annual kick-offs, through biannual employee surveys and the follow-ups thereof, as well as various team activities throughout the year.
Attract, advance, and retain employees
We value and reward our talented employees. In order to be the leader in our industry, it is crucial that we continue to be an exciting employer that can attract, advance, and retain dedicated and talented employees. Mips works closely with Swedish and foreign universities, in part to maintain an active dialogue, and in part to ensure that we will have access to the skills we need in the long term. We encourage university students to write their theses at Mips, which in several cases has resulted in subsequent employment.
All employees have annual performance appraisals with their immediate supervisor, during which individual goals and development plans are formulated and then followed up regularly. Several times a year "Lunch and Learn" events are arranged, where we hold internal lectures and/or discuss relevant subjects.
Essentially the same terms of employment apply in Sweden and China, although local labor laws entail certain differences.

Diversity and gender equality
Diversity is a critical success factor for Mips. With different skills and experiences we can constantly evolve as a company. We have employees from many different countries, which is why English is the language spoken in our Group. The helmet industry has traditionally been male-dominated and we are actively working to reverse that trend, as well as
to promote diversity in our business. Mips' Code of Conduct emphasizes that all people are of equal value and that Mips must provide fair conditions for all individuals and groups.
INDICATORS FOR GENDER EQUALITY
GENDER DISTRIBUTION, ALL EMPLOYEES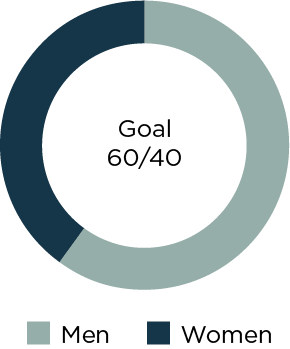 GENDER DISTRIBUTION, GROUP MANAGEMENT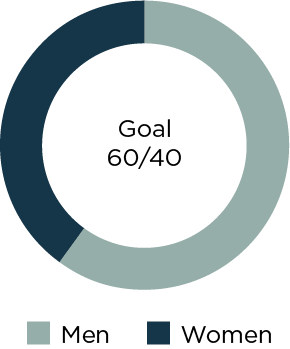 GENDER DISTRIBUTION, BOARD OF DIRECTORS